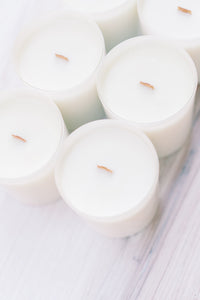 Our new Lavender Driftwood
 scent is fresh, and a little woodsy with an interesting nautical vibe. This fragrance offers a unique take on a lavender scent, combining this timeless floral with more masculine notes of cypress, cedar, and amber. It's a great spa-like luxurious scent with a universal appeal. 
This 10oz soy wax candle incorporates US-grown soy, and comes in a clear glass tumbler with a sustainably-sourced, wooden crackling wick and a gold metal lid. Our candles are hand-poured in small batches in Lexington, NC. 

Top notes: Eucalyptus, Marine, Melon, Green Leaves
Middle notes: Lavender, Sage
Base notes: Cedar, Amber, Cypress
 Burn Time for our 10oz candles is approximately 40-50 hours.
Candle Safety Tips:
Always trim your wooden wicks to 1/4" before every light. 

Avoid lighting your candles in a room with a draft.

Keep out of reach from pets and small children.

Discontinue burning once only 1/2" of wax remains in the jar.