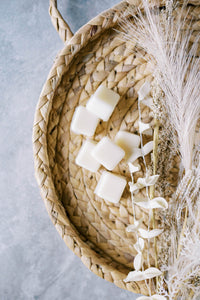 Our new Lavender Driftwood
 scent is fresh, and a little woodsy with an interesting nautical vibe. This fragrance offers a unique take on a lavender scent, combining this timeless floral with more masculine notes of cypress, cedar, and amber. It's a great spa-like luxurious scent with a universal appeal. 
Top notes: Eucalyptus, Marine, Melon, Green Leaves
Middle notes: Lavender, Sage
Base notes: Cedar, Amber, Cypress
Our wax melts are hand-poured using 100% Soy wax and "clean" fragrance oils. No toxins or harmful chemicals are used, just essential oils and natural ingredients. 
This listing is for one 2.75oz wax melt (6 individual cubes in each container).
No wick or flame is needed, just place one or two cubes into your wax warmer, turn on and enjoy. Turn off before you leave the room and just turn back on when you are ready to enjoy again. Wax melts will give you about 15-20 hours of flameless fragrance.